Infrared cameras record, night and day
Infrared cameras offer huge savings and convenience over traditional cameras with housings. Ultra clear pictures in normal light conditions, fast switch to B&W with auto infrared illumination for zero lux operation.
SAVE MONEY — Install in half the time of traditional cameras
Easier to maintain for less than the cost of most equal quality cameras, housings and mounts
TRADE SECRET — use as a low cost form of illumination to the subject area!
Mounts included, indoor or outdoor use
Great clarity with superior  resolution
More Reality for Facial Recognition
Expectations for facial recognition are often assumed to be better than in actuality. For instance, a camera might see a large object clearly at 50 feet away, but, that does not mean that something as small as a face can be recognized. Where you see "reality check", it indicates that Sperry West® has done practical testing under average conditions, so you know what to expect with facial recognition.
Infrareds are color in daylight — B&W at night with automatic sensing & switching to infrared.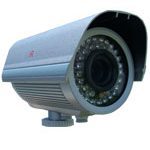 Economical waterproof  VARIFOCAL camera. Simple to use outside adjustment knobs (tech lockable). Top and bottom mounting (mount included). Quick switch day and night.

Up to 100 ft. range
3.5mm – 8mm lens
420 horizontal resolution
42 LED
DC 12V
90mm x 185mm
| | | |
| --- | --- | --- |
| | IR Video 42-LED Camera 100′ range | |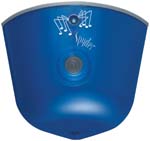 The most ideally-suited camera for elevators and room corners. Installs securely in the corner between ceiling and two walls.

600 line resolution
3.7mm wide angle lens
features a blue led for even more crime deterrent
| | | |
| --- | --- | --- |
| | Single Concave Corner Camera Color | |
| | Single Concave Corner Camera Hi-res Color | |
Most powerful.

160 ft. range with a 20-25 ft. facial recognition range
16mm lens
420 horizontal resolution
6.5″ x 3.5″
| | | |
| --- | --- | --- |
| | IR Video Camera 160′ range | |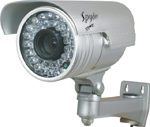 High quality integral mount with cable path.

Up to 165 ft range with 25 ft facial recognition range
Varifocal 4 – 9mm lens
520 horizontal resolution
DC 12V
36 LED