The fast and easy way to catch and record criminals.
The Award-Winning Professional Video Surveillance Kit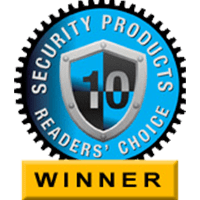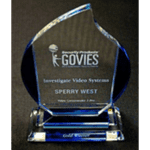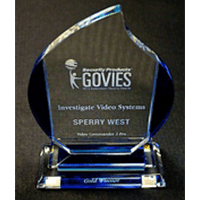 Makes setting up surveillance quick and easy. This system has been used by government institutions and major corporations, where its effectiveness generally results in fast return on investment. Security directors have received many accolades from management for the results of surveillance accomplishments with the Video Commander.
The Video Commander is a self contained unit that you can set up quickly, without calling attention to yourself. You do not need technical knowledge or special tools to conduct successful surveillances. First time users, who have no experience using covert video, are catching and recording incidents of crime on tape.
The Video Commander® has a built-in rechargeable battery, allowing you to set up your surveillance in the most convenient area. This self-powered video system lets you customize your surveillance to fit your changing needs, quickly and easily, depending on video commander kit selection.
Lifetime Camera Warranty on All Kits
96% of users of the Video Commander Kit who participated in an independent survey said that they have or would recommend the Video Commander Kit to other security administrators and that they would buy another Video Commander Kit if they did not have it. Survey conducted by the accounting firm of Leaf & Cole LLP.
All visible parts of the Video Commander Kits are specially designed to be undetectable as video equipment. Pinhole color board camera and wireless transmitter included. A wide range of options and accessories are available.
TOP SELLING VIDEO COMMANDER KIT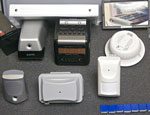 Investigative kit with 7 covert cameras with built in DVR's, 32GB SD cards,  monitor, protective case. Digital recorders are built inside each camera.

WORKING CAMERAS: clock radio, PIR, smoke detector.
NON WORKING CAMERAS: pencil sharpener, computer speaker, small electrical box, loose leaf binder.
TOP SELLING VIDEO COMMANDER KIT
Includes 7  motion sensing recording cameras with 32GB SD cards. 
Test monitor
Rechargeable battery (for short time recording, if AC is not available)
Pelican case with foam to protect the system. 
Side viewing smoke detector
Straight down smoke detector
Adjustable angle smoke detector
Passive infrared detector (PIR)
Emergency light
Round wall clock
Exit sign
+ FREE Loose leaf binder recording camera. Expires on October 14th 2022.
Wireless Video Commander Kit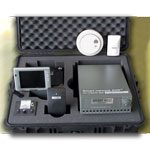 1TB motion sensing net enabled digital video recorder
Rechargeable electronic battery to operate DVR and system for approximately 40 hours
Choice of any two, color digital wireless covert cameras
One color circuit board camera with wireless transmitter
LCD flat monitor (approx. 7″)
Digital wireless receiver with built in antenna
Charger, meter, switchers, etc.
| | | |
| --- | --- | --- |
| | Wireless Video Commander Kit | |
| | | |
| --- | --- | --- |
| | Allows 4 cameras to be recorded at one time. Includes 12″ flat monitor built into lid of case, 3 receivers and a 4 channel DVR. | |
| | Spare battery with quick change cables. | |
Video Commander Extended Kit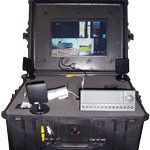 This surveillance kit is very versatile, as it is both wireless and wired and has a greater range potential. Instantly switch between wireless or wired operations by changing between the four, user-selected  Covert Video cameras (2 wired and 2 wireless cameras).
Cameras, special cable. Do not need any external power source, as they are powered through the case, on AC or battery power. The durable, shock-resistant hardside case encloses a 1TB motion sensing 4 channel digital recorder (DVR), built-in LCD monitor, 3 sections of hi-flex cable, internal power source and wireless extended transmitter/receiver system. The entire kit is protected in two molded foam, hardside cases. Kit can operate up to 40 hours on internal battery power, or use AC port for extended surveillance times.
Same features as all items listed above, plus:
3 sections (350 ft.) of high flex grey cable (for video and power) with snap connectors
Two additional cameras of your choice, wired with snap connectors. Records one camera at a time.
| | | |
| --- | --- | --- |
| | Video Commander Extended Kit | |
Super Video Commander Kit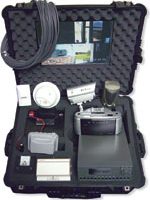 4 channel, motion sensing DVR
Choice of any 4 wireless covert cameras (high digital wireless, high power)
Choice of any 4 wired covert cameras (high resolution)
15″ monitor (mounted inside case cover)
4 wireless covert cameras (high-power, digital transmitter)
4 wired covert cameras (high-resolution, digital transmitter)
3 sections of high-flex cable (50′, 100′ & 150′ lengths)
Miniature pinhole color board camera
1 pinhole lens camera & mount for dropped ceilings
Battery and spare battery
Charger/AC adaptor
| | | |
| --- | --- | --- |
| | Super Video Commander Kit | |
Made for dropped ceilings. Install wireless or with a special wire and plug for video and power. Contains pinhole lens/camera, mount, and a motion sensing, net enabled 1TB DVR all in a protective carrying case. Includes 150′ length of hi-flex cable, digital video transmitter and receiver. Model includes both wired and wireless options. The perfect setup for recording through dropped ceilings. Special cable carries video signal and power to the DVR, or use wireless where AC is available.
| | | |
| --- | --- | --- |
| | Pinhole Kit, Wireless and hardwired | |
Magnum Law Enforcement Interview Video System
Comes with 2 high resolution covert cameras (PIR and side view smoke detector), 4 channel DVR with 1TB hard drive, pop up 11″ monitor, video cable for camera and power for each camera. Includes amplified audio compatible with "Cardinal Peak" system
| | | |
| --- | --- | --- |
| | Magnum Law Enforcement Interview Video System | |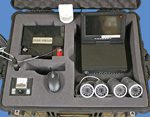 When a disaster strikes, or during special events you can set up a temporary video recording (and viewing) system to protect assets, entrances/exits, and personnel.

Electric power is not needed to operate this professional surveillance system. With the SW3000EK you can quickly set up one two three or four cameras and clearly record all activity. All cameras have built in infra-red LEDs including the supplied Passive infra-red detector (PIR) which can be used in place of one of the "normal" cameras when desired. The PIR camera does not show any glow or other indicator that it is a camera.

Plug in the connectors to the side of the case, place the Hi Flex cable on the ground or in a ceiling and connect it to the cameras, turn the system on and all the power comes from inside the case. Operation with four cameras can be as long as 24 hours. Then you can change out the electronic battery for another 24 hours (approximately). You can even recharge the system's powerful batteries through a car or truck.

4 day/night outside and inside infrared high resolution video cameras
1 four channel digital recorder with pop up monitor
1 infrared high resolution camera
4 100′ Hi Flex all stranded cable assemblies with snap connectors for power and video
2 50′ Hi Flex all stranded cable assemblies with snap connectors for power and video
2 electronic batteries
1 battery charger
1 inverter
4 tripods
4 magnetic mounts
4 C clamp mounts